The purpose of Touch Move Connect sessions for groups is to learn to relate and communicate better with peers. We use games, challenges, play and self-reflection to make new connections and deepen them quickly. Activities can be solo, in pairs, in small groups or with the full group.
Better relationships yield better outcomes. Teams collaborate better together. Conflict is resolved more smoothly. People are more generous to each other. They are able to show up authentically and comfortably, and be their best selves.
While other sessions that focus on a shared activity are also often able to foster good connections among participants, those outcomes are not the explicit focus. The activity does not give space to reflect on the connection toolkit and refine it. Participants do not necessarily take away any communication techniques or soft skills into other parts of their lives.
Touch Move Connect Group Sessions are fun and engaging ways to learn skills and ideas to apply in other relationship contexts. We reflect on how to integrate lessions into our lives and interpersonal dynamics.
These sessions are perfect for events, festivals, team-building retreats, etc.
Upcoming Sessions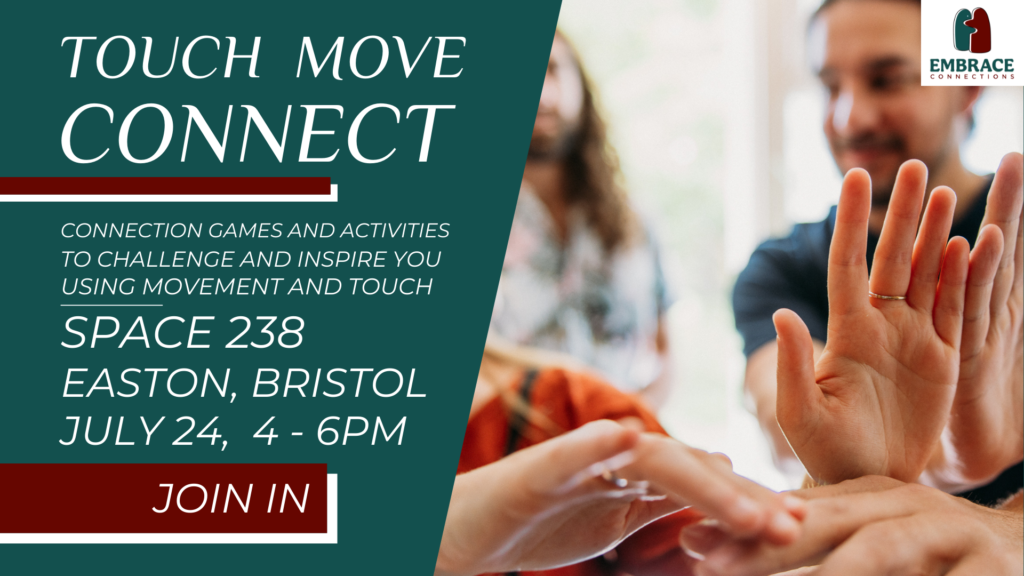 Look for more upcoming Embrace Connections Group Sessions in Bristol on our Embrace Connections page on Yuup or sign up for our newsletter.