Embrace AcroYoga
AcroYoga is a beautiful opportunity to explore a new playful and collaborative dynamic with your partner.
The base and flyer each have their role to play. If each person does their part, and gives space to the other to do theirs, you will find success. Trust is key. Good communication is vital, especially when things go wrong!
AcroYoga is safe and accessible for beginners. As your skills and interests develop, so do the opportunities and challenges!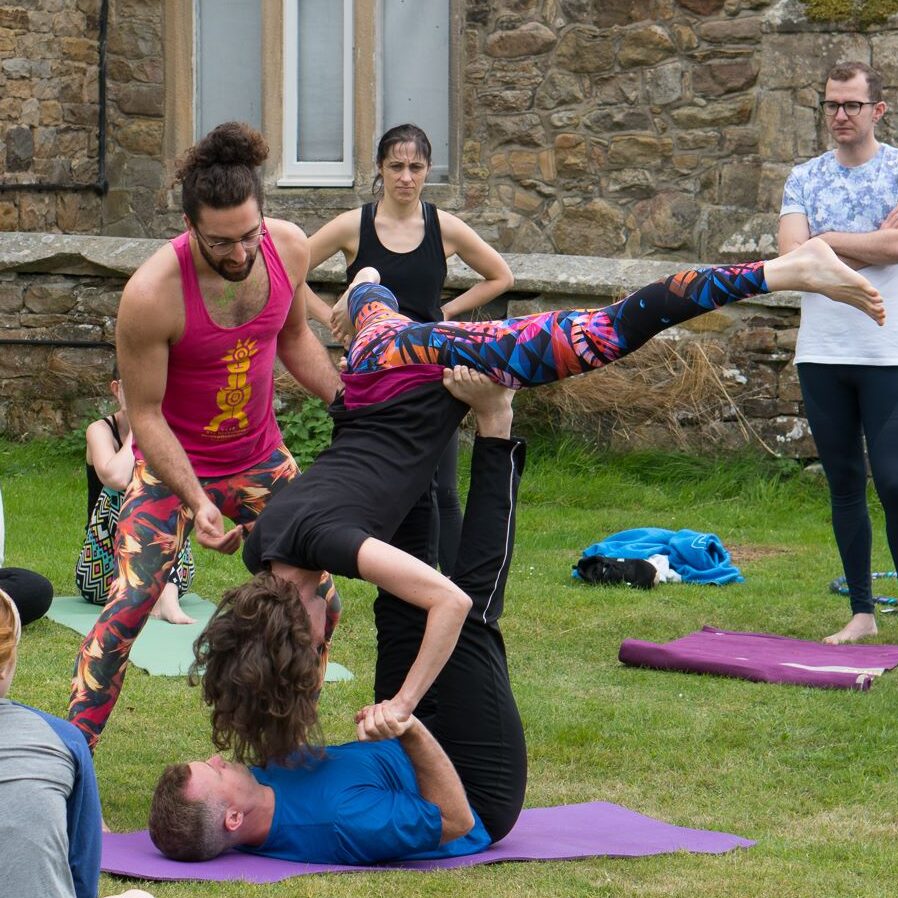 What is a session like?
Sessions are for one or two people, and last between 1 and 2 hours.
We meet in a park, your home, or my studio space. We start by warming up, playing some movement games, and discussing the activities and challenges we want to work on. Then we try them out and see how it goes, what comes up, and how we deal with it.
With pairs, I can teach you to base and fly each other. Or you can stick to one role. I can base you in all the acro. I can fly a lot of it. In all cases, some if the more advanced skills require spotting.
We can do more or less reflection and relational coaching, depending on your needs.
Sessions can be booked one at a time or in blocks. Group sessions are also possible.
A 1 hour session costs £60. Discounts apply for longer sessions and prepaid blocks of 10 hours. Discounted introductory prices apply, and I have concession spaces available each week. Please contact me if price is a barrier.
Why AcroYoga?
People enjoy AcroYoga for many different reasons:
to play and have fun
to connect with other people
to share something physical and intimate with an acro partner
to be a part of a community
to learn new skills
to achieve physical accomplishments
to create something beautiful
…and much more!
What are your personal reasons for doing AcroYoga? How does that resonate in your relationship?
With Embrace, the focus is on your connection, and what you can achieve together. Let's use AcroYoga to bring new dimensions to your relationship.
How will you co-create your shared vision?
Experience
I have been teaching AcroYoga in different settings (privates, classes, workshops and festivals) since 2015
I completed my teacher training with AcroYoga Montreal in 2022
I help organize Bristol's Acro Jams (2021 – present)
4 workshops at the Belgian AcroYoga Festival in 2022
2 workshops at Burning Nest 2022
1 workshop at Celtic Burn 2022
Occasional supporting teacher with Flow with Shell in Bristol (2021 – present)
Co-organized and taught 2 workshops at the Newcastle AcroYoga Workshop Weekend in 2019
2 workshops at the Belgian AcroYoga Festival in 2019
5 workshops at Burning Nest 2019
Taught weekly classes at Shanti Bee in Newcastle (2017 – 2019)